The Global Energy Interconnection (GEI) is a proposed $50 trillion global power grid. It hopes to not only generate solar energy for participating countries, but at the same time, strengthen international relations.
The project consists of 3 phases
Phase One

Require individual countries to improve their power grid
Phase Two

Require the connection of individual grids into regional grids

Phase Three

Entail the development of an undersea grid connecting regional grids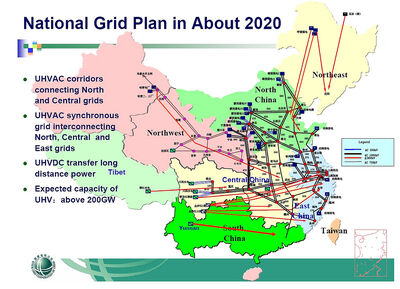 Ad blocker interference detected!
Wikia is a free-to-use site that makes money from advertising. We have a modified experience for viewers using ad blockers

Wikia is not accessible if you've made further modifications. Remove the custom ad blocker rule(s) and the page will load as expected.